MASTERS EXPO 2021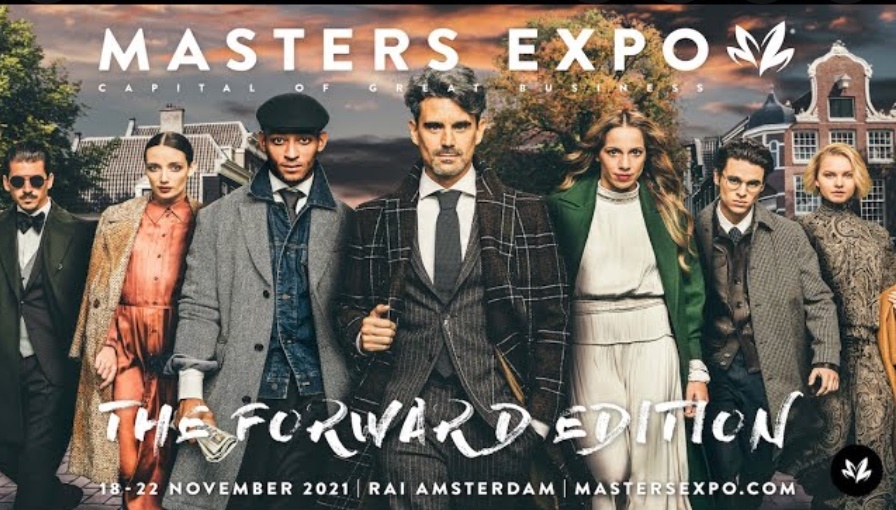 Capital of Great Business
MASTERS EXPO vindt dit jaar van 18 t/m 22 november plaats: Europa's enige exclusieve zakenbeurs. Een grootse sociale happening met als pijlers authenticiteit, vakmanschap en duurzaamheid en met een diepe focus op ondernemerschap en verbinding. Het zijn de Masters die het prestigieuze Hollandcomplex in RAI Amsterdam omtoveren tot een arena waar zakendoen een feest is.
MASTERS EXPO ziet kansen voor sustainable en future proof premium businesses, die trendsettend en verbindend zijn. Een unieke mogelijkheid voor de duurzame doorontwikkeling van vakmanschap en topkwaliteit. Een kantelpunt van Meer naar Beter. Een nieuwe balans met aanstekelijk positivisme. Niet alleen omdat we daar allemaal wel iets van kunnen gebruiken, maar ook omdat er écht nieuwe ontwikkelingen en inzichten zijn die het verdienen om uitgerold te worden.
EEN LIEFDESVERKLARING AAN HET ONDERNEMERSCHAP
De luxe-industrie is traditiegetrouw het startpunt voor innovaties. Waar een automerk vroeger koos hun topmodel op de beurs te lanceren, wil het tegenwoordig ook laten zien wat het presteert op het gebied van elektrisch rijden en zakelijke arrangementen. MASTERS EXPO biedt die ruimte. Zie het maar als een liefdesverklaring aan het ondernemerschap.
THE FORWARD EDITION
De twintigste (!) editie van de beurs beslaat een oppervlakte van 40.000 vierkante meter. Circa driehonderdvijftig exposanten uit bijna twintig verschillende branches participeren. Van botenbouwers tot uitblinkers op het gebied van duurzaamheid, van de beste horlogemakers tot grote projectontwikkelaars. In deze CAPITAL OF GREAT BUSINESS treft een groot aantal geselecteerde exposanten, ondernemers, investeerders, CEO's, leiders, politici en visionairs elkaar op de beursvloer om zaken te doen, het glas te heffen, te netwerken en vooruit te kijken. Vandaar dat MASTERS EXPO dit jaar The Forward Edition presenteert: het is de meest wenselijke gedachte en dus hét thema van 2021.
LIVE SCHILDEREN
Zaterdag 20 november (VIP NIGHT)
20:00 - 00:00